You can enable automatic tracking of appvizer traffic if you use Google Analytics. To do this, activate the function in your account as follows:

If you are already using your own tracking UTMs you will not be able to enable automatic tracking.
If you do not yet use tracking then appvizer will add 4 UTMs depending on where the user clicked: Source, Medium, Campaign and Term
Use this tool to automatically build URLs or follow the instructions below.
Explanations and Examples
Source
Values:
appvizer (invoiced clicks made by appvizer users)
appvizer-test (unbilled clicks made by you when you are logged into your account or by the appvizer team during our technical tests)
Example:
https://www.appvizer.fr/operations/gestion-de-projet/sellsy?utm_source=appvizer&utm_medium=cpc&utm_campaign=Website&utm_term=gestion-de-projet
Google Analytics: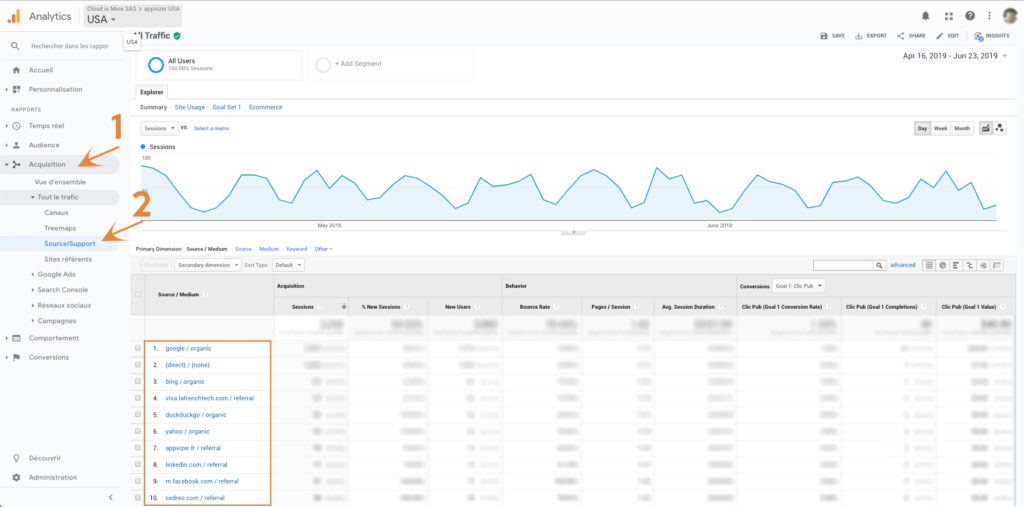 Source
Values
cpc (this value never changes. This allows you to compare your CPC appvizer campaigns with your Google Adwords CPC campaigns).
Example:
https://www.appvizer.fr/operations/gestion-de-projet/sellsy?utm_source=appvizer&utm_medium=cpc&utm_campaign=Website&utm_term=gestion-de-projet
Google Analytics: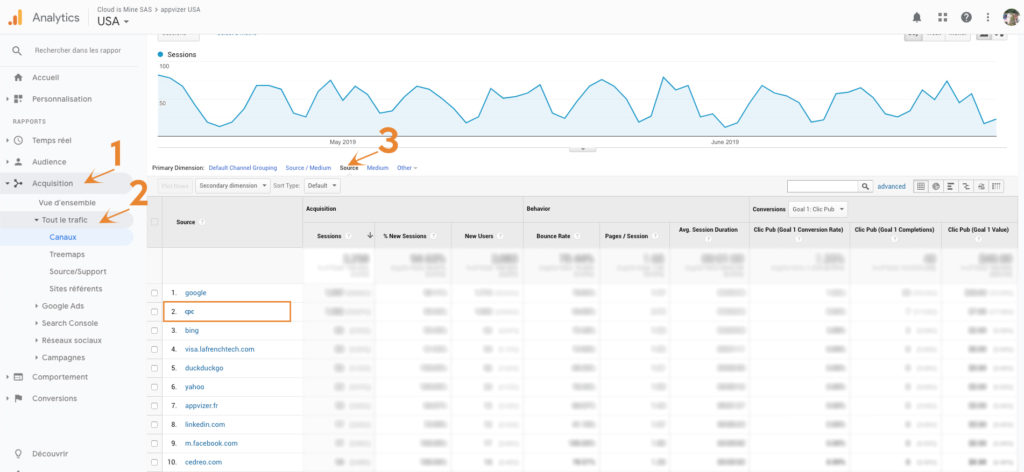 Campaign
Values:

Selection (Landing Page used for SEA campaigns on Bing, Google and Facebook)
Website (any other part of the appvizer site: Home, comparisons, search engine, product page or articles)
Examples:
If you participate in a Google Adwords campaign in agreement with your account manager, appvizer will add the following UTMs to your URL:
https://www.appvizer.fr/selection/operations/gestion-de-projet/?utm_source=appvizer&utm_medium=cpc&utm_campaign=Selection&utm_term=gestion-de-projet
If a user clicks on your button from your product page, appvizer will add the following UTMs to your URL:
https://www.appvizer.fr/operations/gestion-de-projet/sellsy?utm_source=appvizer&utm_medium=cpc&utm_campaign=Website&utm_term=gestion-de-projet
Google Analytics:
Acquisition > All Traffic > Source/Support > Click on "appvizer" in the "Support" column
In the main window, click on Other > Campaign :
Term
Values:
This is the name of the category in which the user clicked on your software. This helps to understand the user's interest:
Customer-Relationship-Management-CRM
ERP
Emailing
Etc…
Example:
https://www.appvizer.fr/operations/gestion-de-projet/sellsy?utm_source=appvizer&utm_medium=cpc&utm_campaign=Website&utm_term=gestion-de-projet
Google Analytics:
Acquisition > All Traffic > Source/Support > Click on "appvizer" in the "Support" column
In the main dimension, click on Other > Keyword: